By Guest Blogger: Kehani from Memos and Mimosas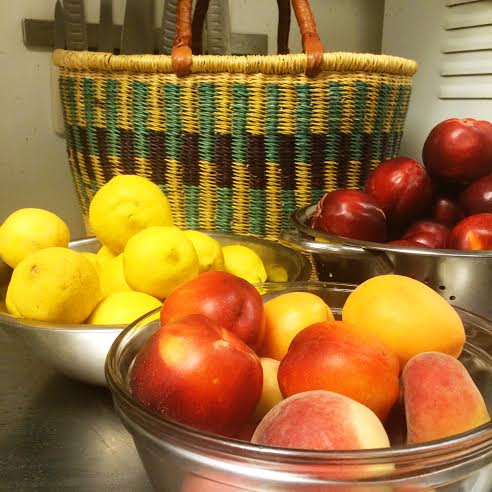 It was a very warm Tuesday afternoon when I arrived at EscoGelato to meet business owner, Suzanne Schaffner. The shop was lively and present with children enjoying an after school gelato and the baristas were busy making lattes and other caffeinated treats. I was greeted by her charming toddler, Levi who was very entertained with the small and quaint play room at EscoGelato. Soon enough we sat down and Suzanne began to share with me her plans for the summer relating to the shop and listing numerous gelato flavors that will be made available in the coming weeks, Suzanne expressed her amazement and shared with me "It's truly amazing how much produce we have here in Escondido.  Even in my neighbor's backyard, Peter shares fruit from his orchard of fruit trees including peaches, nectarines, mulberries, mangos and even bananas."
As we wrapped up our brief chat we headed out to the Escondido weekly Farmers Market, conveniently located a few steps away making it a nice short walk as she went on to tell me about some of the local farms she buys from to help make her tasty gelato. Below are some fun notes I gathered from speaking with just a few of the local farmers EscoGelato buys from.
Kawano Farms:
Based in Vista, is a 3 generation family owned farm, starting with the Grandpa then passed onto his son, then to his son, Rodney who is now running the show. When I spoke to Priscilla, sister of Rodney she shared with me that her mother thought it was hysterical that they all decided to be in the farm business for a living and Priscilla told me she could only respond with "its in the blood."  
*As a side note, EscoGelato also uses these local strawberries for their Strawberry Lemonade
Smit Farms:
Located in Linden, California, Smit Farms has been growing organic fruit since 1969! They feature stone fruit, apples and almonds and sell at farmers markets all over Northern and Southern California.  EscoGelato has grown so fond of buying from Smit Farms each Tuesday that they have nicknamed Smit employee, David "the apple guy". David is a regular at the shop and shared that he looks forward to trying out EscoGelato's peach sorbet which will be made using Smit's very own peaches!
Valdivia Farms:
Is a family owned farm based in Carlsbad that is out and about around the county selling their produce 6 days a week! Eduardo, who I spoke with shared with me "I love my job, it connects me with the earth."  
So as another hot Southern California summer draws near, the folks at EscoGelato looks forward to keeping your taste buds happy and body temperatures cool with an assortment of gelato and sorbets! Thanks to the dedication and hard work of our local farmers to supply the shop with such bountiful fruit , EscoGelato will be up to par this summer.