Our gelato is made fresh daily using the highest quality ingredients including fresh fruit sourced from local farmers and carefully selected chocolate, nuts and vanilla beans.  The result = luscious, super creamy gelato that's full of intense flavor.
We are obsessed with good food and experimenting with flavor. Come taste the difference!
Gelato & Sorbetto
We serve 18 gelato and sorbet flavors daily. Here's a running list of some of the flavors we've created: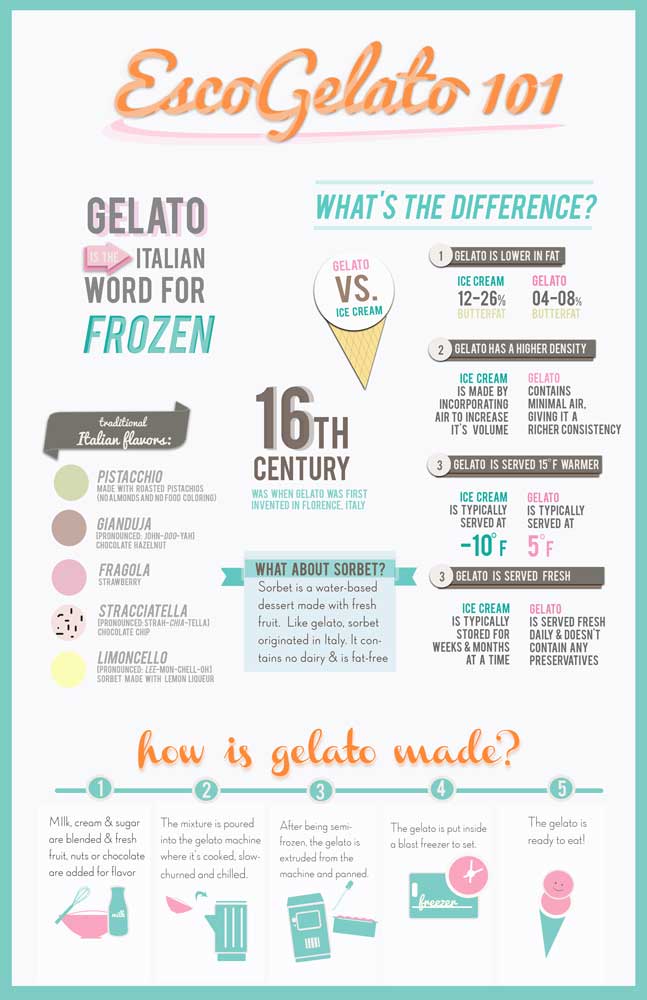 Sorbets
Limoncello
Strawberry Balsamic*
Raspberry
Mango/Spicy Mango
Mixed Berry
Passion Fruit
Chocolate
Blood Orange*
Cantaloupe*
Watermelon*
Blueberry Basil*
Boysenberry *
Strawberry Rosé*
Pear*
Peach/Nectarine/ Apricot/ Plum*
Pineapple*
Blueberry*
Strawberry Basil*
Strawberry Lemonade*
Cream
Stracciatella
Mint Chip
Mud Pie
Coconut
Vanilla Bean
Sour Cream Brown Sugar
Horchata
Salted Caramel
Caramel Latte
Espresso
Espresso Toffee
Espresso Fudge Brownie
London Fog*
Honey Lavender
Tiramisu
Root Beer
Fresh Ginger*
Gingersnap*
Smores*
Buttered Rum*
Irish Cream*
Candied Maple Bacon*
Grape Nut*
Thin Mint*
Fruit
Strawberry
Strawberry Crumble
Marsala Prune
Roasted Strawberry Chocolate Chip
Cherry Chocolate Chip
Blueberry Cheesecake
Blueberry Sour Cream
Roasted Banana Toasted Almond
Banana Bread
Bananas Foster
Banana Sundae
Apricot Goat Cheese
Lemon Cream
Boysenberry*
Pumpkin*
Pumpkin Cheesecake*
Sweet Potato Brown Sugar*
Nuts
Candy Bar
Almond Joy
Brown Butter Pecan
Spumoni
Olive Oil Rosemary Almond
Peanut Butter Hot Fudge
German Chocolate
Brown Butter Brittle
Hazelnut Chip
Almond Fig
Pistachio
Honey Almond
Cream Cheese Cranberry Pecan*
Chocolate
Chocolate
Mint Chocolate
Goats Milk Chocolate
Chocolate Hazelnut
Chocolate Peanut Butter
Chocolate Raspberry*
Chocolate Brownie
Mayan Chocolate
Mexican Hot Cocoa*
Chocolate Orange*
*Seasonal
What is Gelato?
By Larry Olmsted, Forbes
It's very similar to ice cream, and usually described as "Italian ice cream," except it's typically made from some type of milk, rather than cream, and has a substantially lower butterfat content. Now I also happen to love ice cream, and in ice cream, the higher the fat the better, which is what separates the so-called super premium ice creams like Ben & Jerry's and Haagen Dazs from the regular supermarket brands. But the higher butterfat really lends itself to decadence in the more dessert-like flavors, especially anything chocolate-based, and leaves a fatty finish on the tongue, very indulgent. There is a reason why chocolate peanut butter sells well as an ice cream flavor and watermelon does not. Gelato, on the other hand, is much creamier, in the physical sense, served warmer and thus softer, and you can taste the flavors more at lower temperatures. It's smoother in texture but actually denser because it has less air incorporated in it, giving it a really thick and unctuous feel without the fat. But the lower butterfat is the most important thing: absent the overpowering fat, the flavors of ingredients really shine through, especially with fruits and nuts. You can still get earth moving chocolate gelato but it is because those who make it tend to use extremely high quality artisanal cocoa, and chocolate gelato inevitably leans towards the bittersweet end of the spectrum.
SaveSave